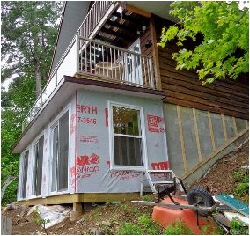 If you are considering making changes to your residence or property, you'll want to know where to go for guidance and approval from the various regulatory bodies.
The OLA Board has created a document with assistance from Tay Valley and Drummon/North Elmsley Townships, as well as Otty Lake residents experienced with the guidelines, to help guide you.
Read on if you are considering any of the following improvements to your property:
New Construction, Addition, Renovation or Outbuilding
Deck
Boathouse
Dock
Well
Septic System (new, upgrade or replacement)
Floating Raft/Mooring Buoy
Aquatic Plant Harvesting
Shoreline Alteration


Read the OLA Building and Renovations document. (9 page PDF)
from Tay Valley Township:
A permit is required when you…
construct a new building, including temporary and farm buildings
renovate a building
construct an addition to a building, including sunrooms – any size
alter the interior of a building, including finishing a basement
build a deck or gazebo over 10 m2 or attached to a building
move or demolish* a building
change the use or occupancy of a building
install a sprinkler system or fire alarm system in a building
install a fireplace, woodstove, pellet stove or chimney
alter or remodel a plumbing system
install a swimming pool (check the swimming pool by-law also)
construct a retaining wall higher than 1 metre
*When a demolition permit is completed, the building is removed from your tax assessment, possibly reducing your property tax. Demolition permits are not required for farm buildings, but there may be a tax impact worth checking out.
Find out more by visiting https://www.tayvalleytwp.ca/buildingguide/frso
from Tay Valley Township:
A permit is NOT required when you…
construct a detached accessory building that is 14.8 m2 (160 sq. ft.) in area or less
paint and decorate
install kitchen or bathroom cupboards (but you need to be aware of minimum clearances required between cooking appliances and combustible cabinets and finishes)
do landscaping
install roof shingling (except clay tile roof)
install eavestroughing
make minor repairs to non-structural bricks or blocks
damp-proof a basement
 Find out more by visiting https://www.tayvalleytwp.ca/buildingguide/
from Tay Valley Township:
All lands, buildings and structures located within the Township are subject to development charges.
Development charges must be paid prior to the issuance of a building permit. Development charges are payable to both the Township and the County.