About the Otty Lake Association
The Otty Lake Association (OLA) is a not-for-profit voluntary organization. Our members are residents and cottagers of Otty, Little Otty, McLaren and Mud Lakes and Jebbs Creek. The association is committed to the long term health and enjoyment of our lakes and the watershed.
There are about 525 seasonal and permanent residences around Otty Lake. About 420 are along the shore, with the remainder in subdivisions next to the lake, mostly Maple Glen and Burgess Wood. Lake properties fall within Tay Valley Township or Drummond-North Elmsley Township.
The OLA currently has 300 members. If you aren't one already, please join us!
Assembles resources that help us better understand Otty Lake, such as the State of the Lake Report.
 Develops plans to maintain the health of our lake, such the Lake Management Plan and its Five Year Review.
 Keeps abreast of actions at the municipal level (Tay Valley Township and The Township of Drummond North Elmsley) that could affect Otty Lake residents.
Undertakes regular surface water quality testing.
Offers workshops to help residents better understand and appreciate the lake and its surroundings, e.g. Bio Blitz, wetland workshop, turtle workshops, nature hikes, phragmites.
Offers opportunities for property owners to participate in lake stewardship e.g. shoreline planting program and Love Your Lake Property Owners Reports.
Communicates via the Captain Otty's Log (our newsletter), this website, and e-mailed notices.
Takes advantage of public education opportunities.
 Networks with other area lake associations through The Lake Networking Group and annual Lake Links workshop.
Organizes some social and community building events. e.g. Nature Floatilla.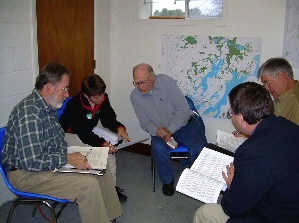 Up to 15 individuals are elected to OLA the Board for two year terms at the Annual General Meeting each July. 
A president is also elected by the membership at that time. Since 2020 these meetings have been via zoom, but in non-COVID times, the meetings were in person in Perth.
The Board chooses  a Vice-President, a Secretary and Treasurer at their first meeting. Other board members head up the various sub-committees such as Land Use, Environment and Lake Activities Projects, and take on roles such as the Newsletter Coordinator and Counsellor Coordinator. See the sidebar for current board. The Board meets three or four times a year. Recent minutes are available for viewing.
There are frequently openings for board directors, and the board can appoint new members throughout the year, ie. it does not have to happen at the AGM.  So if you like to contribute to the association in this way, please get in touch. 
Area Counsellors
The OLA has divided the lake into 24 numbered regions, and each is assigned a volunteer Area Counsellor who acts as liaison between residents in the region and the OLA. Frequently the counsellor resides or cottages in the area they are assigned. Each summer the counsellors attempt to visit every property in their area to deliver summer information packages, verify contact information, and collect membership dues if necessary.  If you think you have been missed by your counselllor, please contact us. See a map showing the regions.
Road and Property Owner Associations
There are several smaller associations that exist independently of the OLA, usually to maintain road conditions or organize social events.
Community Partnerships Summarized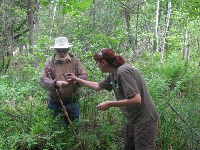 The Otty Lake Association works in partnership with many provincial and local organizations in order to stay current and develop programs and events that help the lake association and lake residents understand more about what they can do to ensure the long-term health of the lake.
Many of the OLA's accomplishments have been in partnership with one or more of 29 other organizations.  The relationships forged with these organizations will continue to be nurtured and supported. A chart summarizing the successes by partner and by key lake issue (e.g. surface water quality, impacts of boating), along with what we hope for the future, has been pulled together by Christine Kilburn.  There are still many concerns to be addressed if the lake is to stay healthy.
Some Partnerships Explained
Municipalities
Otty Lake spans the boundary of Tay Valley and Drummond/North Elmsley Townships. The Otty Lake Association values the opportunity to work closely with both municipalities. Along with our other community partners, the two townships participated in the development of the Otty Lake Management Plan and continue today to be critical links in the efforts to protect the health and well being of Otty Lake and its lake community.
Tay Valley Township | Drummond / North Elmsley Township
Lake Networking Group
The OLA participates in a Lake Networking Group (LNG) that has about 28 member lake associations from across Eastern Ontario. The group meets several times a year to discuss matter of mutual concern such as policing, shoal marking, water quality, capacity building and engaging their communities. Read more about the Lake Networking Group (LNG).
Federation of Ontario Cottagers Association (FOCA)
The OLA has a paid membership in FOCA, a non-profit, voluntary organization representing 500 Ontario cottagers' associations plus individual and corporate supporters. For 50 years, FOCA has been dedicated to supporting the interests of Ontario's waterfront property owners.   
Lake Links Workshop
2022 was the 21st edition of this annual October workshop organized by Watersheds Canada (formerly Centre for Sustainable Watersheds) for anyone concerned about lake issues: non-profits, municipalities, government agencies, individuals and lake association representatives. Usually several Otty Lake residents attend, and the OLA has made a small monetary contribution to make the day-long event possible.
OLA Board Members
Otty Lake Association board members as of March 2023.
 OLA Area Counsellors
Contact Susan Murray, the Acting Area Counsellor Coordinator, to find who is the counsellor for your area.
 OLA Constitution
The rules that govern the operation of the OLA, as incorporated within the Province of Ontario. Revised July 2019.
 OLA Beginnings
About 1970, The Otty Lake Pollution Control Committee was formed for Otty and connected lakes. In 1976, the name was changed to the Otty Lake Association (OLA).
Waste and Recycling Info
Each municipality's arrangements for waste, recycling and hazardous waste vary.
Past Presidents of the OLA
J.Kimball Abbott (1970-1975)
David E. Code (1975-1987)
Rex Boyd (1987-1990)
Bruce McAusland (1990-1991)
Judith Burns (1991-1992)
Lorne Gold (1992-1999)
Brian Perkin (1999-2001)
Richard Atkinson (2001-2003)
Karen Hunt (2003-2005)
David Reesor (2005-2007)
Jeff Ackerman (2007-2008)
David Reesor (2008-2009)
Karen Hunt (2009-2011)
Robert Cosh (2011-2015)
Reid Kilburn (2015-2019)
Krista Hearty McLean (2019-2020)
Kirsten Brouse & Barb Hicks (Co-Leaders 2020-2021)
Kirsten Brouse (2021-2023)
Leadership Team of Jen O'Donoghue, Cathy Kari & Barb Hicks (2023-2024)